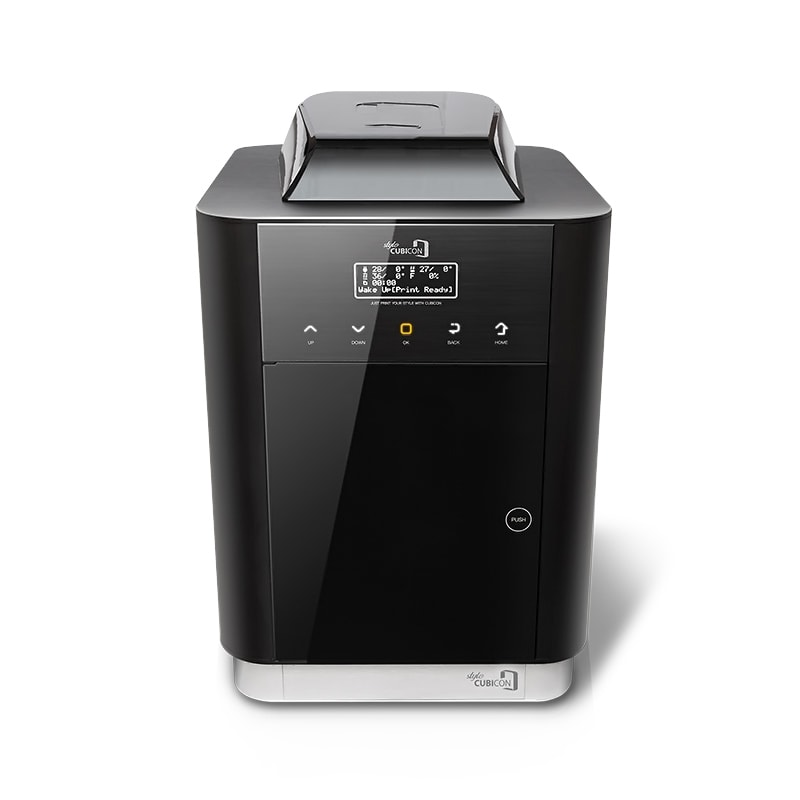 Cubicon Style
The Cubicon Style 3D printer is a smaller version of the Cubicon Single but still has all of its revolutionary features. The replaceable extruder means you can print using different filaments including PLA, ABS and TPU - all you need to do is exchange the extruder. The triple air filter protects you by removing potentially harmful airborne toxins. The convection feature means the internal temperature in the printer remains stable, ensuring the end products are of high quality. Its compact size and sleek design mean it's perfect for printing in all environments

The Cubicon Style 3D printer is a smaller version of the Cubicon Single but still has all of its revolutionary features. The replaceable extruder means you can print using different filaments including PLA, ABS and TPU - all you need to do is exchange the extruder. The triple air filter protects you by removing potentially harmful airborne toxins. The convection feature means the internal temperature in the printer remains stable, ensuring the end products are of high quality. Its compact size and sleek design mean it's perfect for printing in all environments.

The Cubicon Style has a highly reliable print quality because of its enclosed bed space, automatic heat bed levelling and precision motion control. It produces low-level noise, which means it can print in a working environment without being disruptive. The Cubicon Style 3D printer has smooth and accurate print quality, User-friendly and 3D printer smart checkup function

The self-checkup function of the Cubicon Style means it can look after its core components. In order to melt material, 3D printers must reach high temperatures and use their internal fans to cool down. If this fan was to malfunction, printing quality can be compromised and this is a potential safety risk. The checkup function warns the printer user of the conditions of the fan so they can safely use their Cubicon Style.
Stylish design

Perfect for the home, school and office

Now print in style with a 3D printer designed to suit all environments.
Please note two weeks order delay.
Standard
Product size: 322mm x 350mm x 486mm (W x D x H)
Product weight: 15kg
Package box: 490mm x 405mm x 555 mm (W x D x H)
Package weight (body and accessories included): Approximately 21kg

Temperature
Operating temperature: 15℃ - 35℃
Storage temperature: 0℃ - 35℃

Electricity related
AC Input: Free volt 100 ~ 240V, 50/60Hz, 2.5A
Power supply: 24 V DC @ 6.3A 150W (max)
Memory device and communication environment: SD card, USB cable

Software
Slicing software provided: Cubicreator
Input 3D design file format: .stl, .obj

Printing
Printing technology: FFF - Fused Filament Fabrication
Model size: 150mm x 150mm x 150mm (W x D x H)
Configure layer level: 150 ~ 300 microns, minimum 100um
Optimal model wall thickness: 400+um with 0.4mm nozzle
Filament diameter: 1.75mm
Filament type: ABS, PLA, TPU (Flexible) filaments
Basic nozzle diameter: Basics 0.4 mm
XY precision XY positioning: 6.25 um
Precision Z positioning: 1.25 um
Nozzle maximum temperature: 260 ℃
Heating bed maximum temperature: 120 ℃

Related

Products