3D Printed House Models
As the 3D printing revolution takes off, 3D printed house models are becoming more common. Builders, architects and property developers can show their clients their appreciation by gifting them a model of their new home. If you're looking for that competitive edge over your opposition, this will be a new way to make your customers smile. A 3D rendered virtual floor plan has many benefits, however, sometimes you just want to hold it in your hands. 3Design now offers exciting new visual floor plans in a unique way through our 3D printing service. This service gives you the opportunity to order a 3D model of any plan created by 3Design and have it on your desk within 10 days.
Present your property in a unique way with a 3D printed house model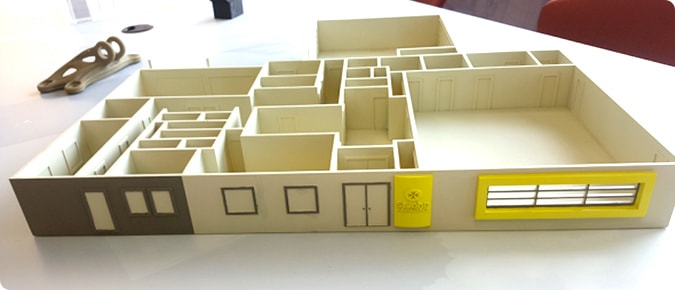 Our 3D house models are great eye-catchers and conversation starters. Potential buyers can't resist picking the model up and rotating it in their hands which gives them more insight into the floor plan of the house they are interested in. If you are a real estate agent or a property developer, 3D models give your clients an easy way to compare the layout of different properties to find the most fitting floor plan. At 3Design we have been modelling a number of architectural designs locally and throughout New Zealand. We can convert 2D drawings into 3D renders and then 3D print them into life-like plastic models. Our prices range from as little as $300 for a small model.
Our 3D printing service is also available for consumers. Dream about your new home or remodelling project before it is even built or use it to create a great personal gift for new homeowners. If you are a property developer, you can imprint the 3D models with your own logo making it a perfect gift for home buyers. A great gift for new homeowners, make an enquiry!

Click here for a Free Quote