3D file repair service
In the 3d printing applications, files are exported from slicer software and they contain a list of commands which the printer reads and executes to print a 3D model, sometimes these files become broken and corrupted. Incorrect STL files can be a frustrating waste of time and money. Our repair process rebuilds the mesh of your model optimising it for 3D printing, and removing all issues. We can check your file to see if it is watertight and if it is, there will be no charge. File formats that we repair include: .3ds, .obj, .wrl, .ply, .zpr, .fbx, .bld and .skp. When exporting to a stereolithography (STL) format, or other formats from your favourite computer-aided design (CAD) software, errors can occur in the makeup of the polygon mesh. These errors have to be corrected before 3D printing or rapid prototyping can be successful.
Need some advice from a designer?
Contact Designer
Click here for Free Quote
Example of 3D file repair service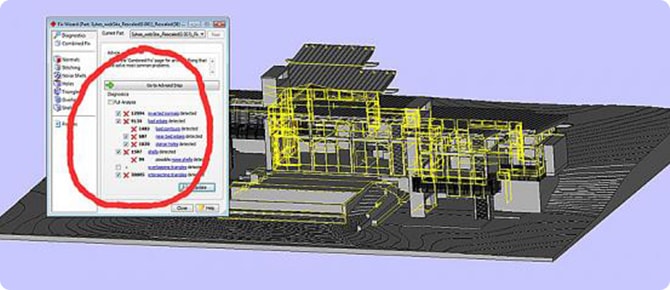 Before 3D File repair
This model from Google Sketchup looks perfectly fine. However, once exported into an STL format, one can see the errors.
• 12,994 Inverted Normals
• 9134 Bad Edges
• 1483 Bad Contours
• 687 Near Bad edges
• 1026 Planar Holes
• 1507 Shells
• 94 Possible Noise Shells
• 36005 Intersecting Triangles

---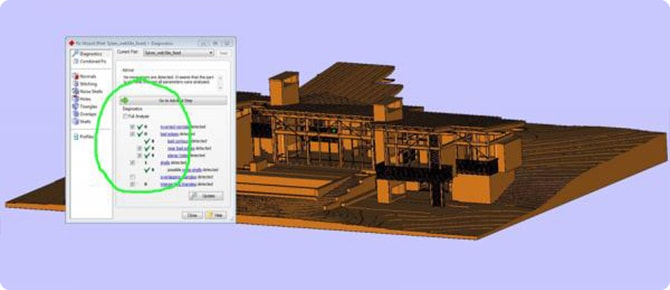 After 3D File Repair
All the errors have been fixed
• 0 Inverted Normals
• 0 Bad Edges
• 0 Bad Contours
• 0 Near Bad edges
• 0 Planar Holes
• 1 Shells
• 0 Possible Noise Shells
• 0 Intersecting Triangles
We also have the ability to "Shrink Wrap" models with excessive errors
This can be overwhelming and time-consuming to correct?
Contact Designer
Click here for Free Quote